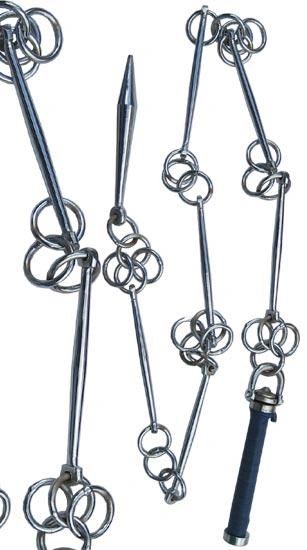 7 Plum Flower Chain Whip
Free shipping to Massachusetts's Body Mind Systems locations. Shipping is refunded with 48 hours. This traditional style seven sections chain whip follows the same design, shape, and weight as it did 100 years ago. There is one modern improvement and that is the chrome plated surface to prevent rust to developing from sweat or moisture. Beneath the chrome plate of the chain whip is cold rolled steel, just soft enough to bend or dent but will not break or chip when it strikes a hard object.
Each rounded section is linked together with cold rolled steel welded rings. The solid steel handle is wrapped with soft cloth to absorb sweat at the same time providing a non-slip surface to grip. The handle has two swivels, one is in the center of the handle tip, the other is on the side of the handle, allowing the chain to spin and turn perfectly smooth, with balance in the trainer's hand.
This is the perfect length to fit someone with a shoulder height about 49" or body height up to 5'10". This chain whip is recommended for Northern styles trainings.
Overall Length:  56"
Handle Length:  6"
Links:  5" in length
Tip Section:  5.5"
Total Weight:  1 lb 11oz.