Aluminum Broad Sword with sword weapons carrying case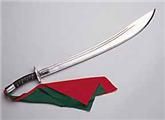 Aluminum Broad Sword with sword weapons carrying case
Broad Sword and case combination
This is a high quality aluminum Chinese Broad Sword. Blade riveted to the handle. Well balanced and great for beginners or advanced practitioners.
We are sad to see this sword go. This weapon is being discontinued so order today. When the limited inventory is gone, they're gone.  
The best sword case on the market! Constructed from sturdy black nylon, the Tiger Claw Sword Case has dual pockets and Velcro elastic straps to secure your weapons, plus a padded separator to keep them from banging into each other. There are two external zippered pockets to store your keys, your cell phone, your sword maintenance kit or whatever, along an elastic web pocket and a clear luggage tag holder. Comes complete with double carrying handles and shoulder strap.

Choose a  Body Mind Systems New England Area location and your shipping will be refunded to you within 24 - 48 hours.